December 26th, 2010
Wazzzzup?
Today we`r tripping to Sanchez city (check out in the map, it`s in the peninsula Samana), the unique shrimp-catching-splace in Dominican Republic.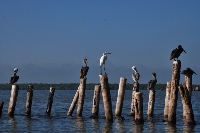 Travel Sanchez Ramirez
We left Las Terrenas early in the morning, to have a time to do foto of everything in our route. Fishermen come to work at 6:00 am, when the sun is rising and shrimps are feeding.
It`s a special fishing net, used for catch shrimps. It has a circle form with plumbum balls at his termination. When the fisherman throw the net out, only 6 or 10 shrimps are catched every time.
Sometimes the fisherman`s bag has 20 or 30 pounds of shrimps for a day. Than you buy it in a fish store, like about 3 dollars for pound of fresh tasty shrimps.
Meanwhile children study fishing, cause they don`t have the force to throw the network, therefore they catch small fishes and crabs (in dominican – "cangrejos").
Pelicans observing our boat trip. They are wainting for the X-time, when outflow comes, and some fishes appear in the bay bottom.
To be continued =))