February 9th, 2010
I went to the Dominican Republic on a business trip from work and I have to say that my this wouldn't have been my first choice for a travel destination. Eventhough I had some doubts the Domican Republic turned out to be surprisingly fantastic and simply another stunning travel destination in the Caribbean.
To get to the Domican Republic I took a 8 or 9 hour flight but with all the movies, lunch and dinner breaks time literally seemed to fly. We travelled in high season from late December to the first week of January but if you want to save some money just travel after or before this period when the climate isn't much different but the rates are.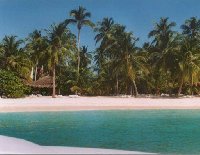 Saona Island from catamaran
I stayed in a touristic resort on Cayo Levantado Samana which organized some great tours for us. I can highly recommend doing some of these tous, like a boattrip to the surrounding islands, if you want to see some more of this beautiful area.
The only thing I had trouble with was the amount of poverty and dirt on the street as soon as you left the resort. You can see an amazing contrast which is quite sad and makes it unsafe for a tourist to walk around late at night. Another good reason to book a tour and explore the sights together.