March 29th, 2010
If you visit the Maldives the first thing you have to do is to stick your head under the crystal clear water and admire all the colourfull fish swimming around crowding the stunning coral reefs known to decorate the underwater world of all the Maldive islands.
Here you'll find some of the planet's most gorgeous marine life and untouched reefs. It's easy to spot beautiful creatures like lemon sharks and giant turtles.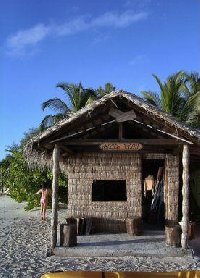 Beach Point, Maldives.
We went to the Maldives in May of 2007 and upon arrival I couldn't realize the immense beauty of the islands, it really is paradise on earth and the holiday was like a dream.
It's even hard to describe the beauty of the Maldives with worths because it's such a surreal place with an impeccabile nature and gorgeous bays.
During our holiday we stayed in a really nice resort with all kinds of facilities and a great service. The staff was amazing and the cuisine exquisite.