March 30th, 2010
I went to France, Belgium and the Netherlands by train. I decided to purchase an inter-rail ticket and just see where I wanted to hop on and off. It was an amazing experience and I met so many interesting people along the way.
Some places were beautiful and every country had its own charme. I travelled with four of my best friends and the only thing we packed was this giant tent to sleep in.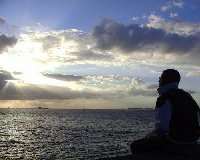 Inter-rail train trip..
I really liked Brussels and of course we tried the famous Belgium Westmalle beer!
Belgium was nice with all the pittoresque buildings and interesting monuments. In the Netherlands we saw a lot of green and Amsterdam was amazing.
For two weeks we survived on panini, soups and Mc Donalds which was an even bigger challenge than the initial trip! Finding camping sites was pretty easy and we all made it back home safe and sound.