November 5th, 2010
This June my daughter has moved to Bruges in Belgium for a year of study and it surprised me that I had never visited this beautiful city.
Bruges is just a train ride away from Amsterdam where we live but you really experience being abroad as the atmosphere is really friendly and less chaotic than back home.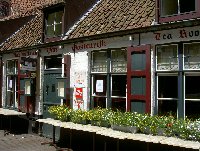 Travel Blog Bruges
The historic city center of Bruges is simply stunning and like Amsterdam it's known as a beautiful canal-based city surrounded by medieval buildings and incredible facades.
My daughter was a perfect city guide and showed my around the center of Bruges with visits to the elegant Church of Our Lady and mighty Provinciaal Hof, the provincial court of Bruges. Again, a beautiful city and within Belgium definitely one of the most appealing places to visit.
During my visit I actually stayed near the Church of Our Lady and the Europacollege where my daughter attends her lessons at an amazing hotel called Hotel De Tuilerieën where I had booked an incredible room for my daughter and I. It was a surpise for her and we had a wonderful time getting pampered at this luxurious little place in the heart of Bruges.