March 31st, 2010
Rurrenabaque is a small town in the North of Bolivia and a great place to stay if you want to visit the Bolivian rainforest and the surrouding pampas or bush and swamp area.
You can explore the pampas on a guided tour which includes a boat ride through the canals.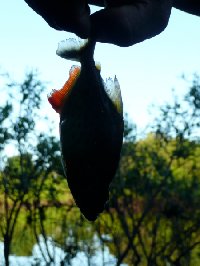 Piranha fishing in Bolivia,..
From La Paz you can reach Rurrenabaque by bus or airplane but you shouldn't expect too much of the local airport which is really basis.
In bad weather the field, there is no runway, can get slippery and airplanes won't take off.
When we left Rurrenabaque it was raining so we couldn't board the plane. After a three hour delay we finally did and had quite a unique flight experience!
But before we left Rurrenabaque by plane we did spend some amazing moments in the grass fields of the pampas.
The wildlife here is amazing and we came across all kinds of monkeys, alligators, snakes, capybaras, turtles, anacondas, cobras, caimans, macows, birds and even dolphins. O and the most scary part, the small but fearless piranha's!
We actually went piranha fishing and got to fish or own meal! I never knew people ate piranha's..
We camped for three days in the Bolovian pampas and did all kinds of adeventurous trekkings, an unforgettable journey with a lot of great memories!