January 4th, 2010
From La Paz in Bolivia we travelled to Rurrenabaque to explore the jungle! Our initial plan was to fly between La Paz and Rurrenabaque but we ended up in a 4wd which wasn't too bad at all because the scenery is fantastic.
Just travel along the Death Road and that's no made up name..Eventhough the route was pretty tricky I have to admit its a true scenic drive with beautiul views over the rainforest.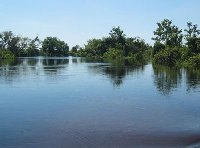 La Pampas in Rurrenabaque
After a 14 hour jeep ride and some smashed organs we arrived in Rurrenabaque, finally!
In Rurrenabaque we went through the Pampas, the Bolivian bush. We explored this area by boat cruising through the swamps and even got to swim with some dolphins.
At the time I didn't realise that the Bolivian aligators and piranha's like dolphins too..
Well, luckily nothing terrible happened because even the guide didn't seem to care too much about our savety here. But hey, to quite the man himself, 'todo es posible,nada es seguro'.
Following the wise man we ended up catching aligators, holding monkey's and eating piranha's:) Now we're real bush explorers!