February 7th, 2011
Bolivia is a beautiful country to travel to and if you do you must take a trip to the Rurrenabaque area for that popular and today pretty touristic pampas tour.
As soon as your guide takes off you will forget completely about the other travellers behind you as there is so much to see!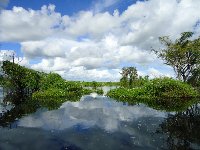 Travel Guide Rurrenabaque
It´s an amazing way to observe great wildlife like wild monkeys, birdlife and of course the famous Rurrenabaque crocodiles.
We stayed at a hostal in Rurrenabaque called the Big House, or Hostale Casa Grande which had a nice chill/out lounge area with hammocks to think over another exciting day tour in the pampas of Bolivia. Great place to go!