April 6th, 2010
We decided to spend our Easter monday in Maastricht, a beautiful medieval city in the province of Limburg, in the south of The Netherlands.
We took the train from Amsterdam with stops at Utrecht and Roermond. The total ride took us about three hours which was quite an experience because their were some small delays but in the end the trip went fine!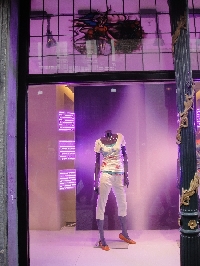 The shops in the centre of..
Maastricht is a gorgeous city and has a very welcoming feel about it. It kind of feels like you're crossing a border but in the end you're still in Holland, eventhough Maastricht is just about 5 chilometers away from Belgium.
The city is known for its great cuisine and love for food, something we were all willing to test! Some typical Maastricht delights would be their pie, the Limburgse vlaai, their waffles and of course their beer.
Besides beers like Heineken and Grolsch, you'll find the local Brand beer and a hundred of our variaties all available in the many bars and restaurants spread over the city centre.
The centre is very nice for sightseeing and Vrijthof Square is beautiful with the old medieval basilica and the red church towers behind it.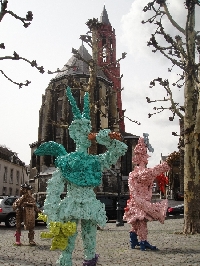 Public art exposition on..
The best thing to do before trying to look for the main attractions is to visit the VVV office which is like the Dutch tourist point abailable in every city. They can provide maps and brochures of all kinds of attractions and places to visit.
We ended our day in Maastricht with a lovely dinner at a cafe called De Twee Buren, located in a parallel of Vrijthof Square. The ambience was amazing and they actually planted a cherry tree, well not a real one, in the centre of the restaurant, great atmosphere and even better food!