April 8th, 2010
One of the most popular touristic attractions in Maastricht would be the Natuurhistorisch Museum, which is located at a two minute stroll from the main Vrijthof Square.
The museum is a collection of interesting geological and biological finds in the history of Limburg, the province of Maastricht.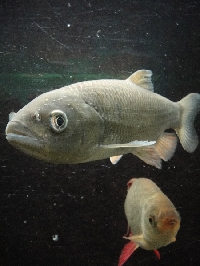 Fish inside the..
You will be able to check out giant remains of mammuts and dinosaurs.
At the entrance of the museum you'll find a reconstruction of a dinosaur believed to have lived in the southern province of the Netherlands which is pretty impressive.
I can't imagine mammuts and prehistoric creatures walking through the centre of Maastricht today but creating a mental picture was a lot of fun!
It's a great place to learn more about the history of the city and observe what life was like in the past centuries.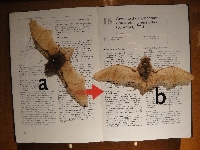 Dutch bats at the..
There is also a space dedicated to all kinds of animals spotted in the province of Limburg, like the rare siamese mouses which were a group of mouses tied together by their tails, the strangest sight.
There is also a small acquarium to check out the fish swimming around in the rivers and canals of Limburg and the famous Maas river.
The entrance fee for the Natuurhistorisch Museum in Maastricht is 4, 95 euro's and you can use their lockers to put away your jackets of other valuable things. In the museum there's also a little cafe bar where you can get something to drink but we didn't go there.
One of my friends knew who to find the museum but you can always use your gps or ask for a city guide at the towns VVV office which is a sort of information point for visitors and tourists.