April 9th, 2010
Lisbon is a beautiful city to visit, the people are friendly and getting around won't cost you a lot. Most of the time we went by taxi and we really didn't spend that much.
One of the popular attractions in Lissabon would the Tower of Belem from where you will have an amazing panorama of the city with its beautiful Lisbon Bridge.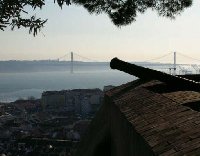 Old canon in Lisbon with a..
To get to the top there's a steep path with some annoying steps but once you get to the tower you soon realize it's all worth the effort!
Lisbon has some great shopping and again the prices are really low compared to other cities in Europe.
You could consider Bairro as the capital of shopping and you will find a lot of great shops here plus a giant shopping centre with on the third floor a wide range of restaurants to take a break from your shopping spree.
Our last day in Lisbon was dedicated to the Oceanario de Lisbona, a portuguese version of Seaworld which is located in the Parque das Nações. This is a residential area in the northeastern part of Lisbon which is also referred to as the quarter Expo, mostly by tourists, which can be reached by bus from the city centre.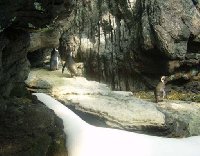 Penguins at the Oceanario de..
The nearest bus stop would be the station of Estação do Oriente serviced by the busses 5, 25, 28, 44, 708, 750, 759, 782 and 794. The same station is serviced by the red metro line, also known as the Linea Vermelha. The park is also reached by ferry-boat and the Parque das Nações is one of the cities five boat terminals.
Bairro is also a great area at night and close to city port you'll find all kinds of bars, restaurants, wineries and even dancing clubs. We returned went to the Expo area where we ended in a lovely pub called Magnetic.