March 10th, 2011
I came back from a trip to Lisbon in Portugal two days ago and it was beautiful. The idea actually came from my mum and she asked me if I wanted to join her on a trip, sure!!
The week spent in Lisbon was a lot of fun and it really is a beautiful city with a gorgeous historical centre. We also had a great time together and really got to know eachother in a different way, I guess that's what happens if you open up to new things:)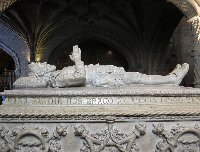 Tours Lisbon
We went on all the typical tours and visited the botanical gardens, the Torre de Belém, Pont 25 de Abril and the Pradao dos Descobrimentos monument which reminds all of the colonial treasures of Portugal.
The Mosteiro Jeronimaos Monastery with its church and fountain was also gorgeous, really a magical place in the heart of Lisbon.
Hmm..other places we visited, the Museu Nacional dos Coches which is a national coach museum, Castelo de San Jorge, Rua Augusta and Praca do Comércio and some other things. I loved the tram rides because it really takes you through all of Lisbon's small lanes and gives you an idea of how the people live.