December 3rd, 2010
I grew up in Lisbon, Portugal but have studying for two years in Madrid which definately has become my second home but I still try to go back to visit my family as often as possibile.
This year has been rather hectic and I've only been able to travel to Lisbon in March but luckily I'll be spending the Christmas holidays there again.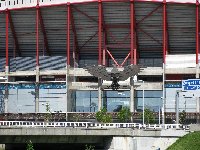 Tourism Lisbon
Lisbon is a very lifely city with great tourists attractions and a lot of culture to soak up.
It's a cosmopolitan city, since it's the largest city in Portugal, but it still has maintained its traditional Mediterranean feel and breaths culture and joie de vivre.
Praça do Comércio is one of my favourite sqaures in Lisbon and I love walking there for its incredibile architecture, mixture of people and bright colours.
Another great tip I could give future travellers to Lisbon is to go on a boat ride around the old quarter of the city. For a great taste of Portuguese cuisine combined with a walk on the riverfront you should head to the Docks, Docas de Lisboa, where you'll find some nice restaurants.