December 9th, 2011
After a TAP flight of two hours me and my husband arrived in Lissabon for a romantic weekend. The flight went very well and the company had a good service on board.
For me it was the first time in Lissabon and I fell in love with its narrow streets and local produce the minute we started sightseeing. The food was amazing and the restaurants so lovely.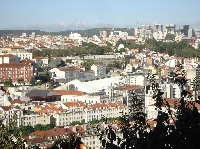 Travel Experience Lisbon
The best thing about Lissabon is its great varieties of places to visit from the historical centre to panoramic views from Castelo de São Jorge, the elevador de Santa Justa and visits to nearby Cascais (boca do inferno is gorgeous and great to have drinks or a seafood based lunch).
We visited Lissabon in Octobre and had great weather but I am sure Lissabon is as enchanting in wintertime!