May 25th, 2011
My trip to Lisbon was amazing! Together with my best friend we decided to take this trip to Portugal since we both had never been there and had heard so many good things about it like the food, the weather and the people.
It was a great week and we tried to stuff all the info we had into a Lisbon city tour and started walking. The best thing was exploring the small alleys and neighbourhoods just outside of the city centre because we discovered some great places to eat and enjoy the more local cuisine.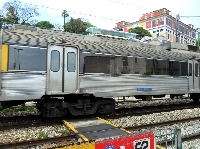 Travel Blog Lisbon
One of these places
Another must see and eat there is Pasteis de Belem which is a cafe in Lisbon where you can get some delicious cakes, all hand made and really jummy!
As for sightseeing the historic centre of Lisbon is very attractive and you should be able to cross at least the Mosteiro dos Jerónimos, the Lisbon Cathedral and the national monument of Elevador de Santa Justa off your list.
Then there's Rua Augusta, the most crowded and popular street in Lisbon leading to the Praca do Commercio but honestly there is just too much to see to list in a blog and as soon as you start walking you will notice that you will discover a new and interesting path on every single corner. Make sure to take the time to enjoy Lisbon and not to hurry your stay because this city is really worth a good look around. And while you're there, try the Port!