April 15th, 2010
Like Bukhara in Uzbekistan also Mary, or Merv, is located on the ancient Silk Road which connected all the imporant commercial centres of the Asian Empire.
Today Mary is known for its markets, friendly locals and of course the golden statues of the former Turkmen president Sapamurat Niyazov who died in 2006.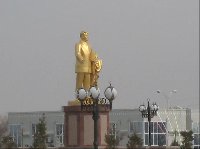 Golden statue of Turkmen..
Not only in Agadir, the capital of Turkmenistan, Niyazov was loved for his ideas to promote the native culture, but also in Mary the golden statues of the former Turkmen politician are still of value for the locals and a popular touristic attraction for the visitors.
The people of Turkmenistan called him Turkmenbashi, meaning leader of all Turkmen, and this is the title that the golden statues of Mary all carry.
We found many different statues and often weren't allowed to photograph them out of respect. We found this golden statue of the president sitting in a chair which was positioned on top of a globe and which I think symbolized his power or influence in the world.
Unfortunately we were able to take just one photo as some people asked us to leave and told us it wasn't allowed to photograph the statue.
Besides the statues of Turkmenbashi Mary is also known for her great local market where the people will be willing to give you a hand or tell you more about their culture.