April 20th, 2010
The Kuwait Towers dominate the skyline of Kuwait City and from its observation desk you can get the best panoramic view of the city, looking out over the harbour, the coastline and the city centre.
Kuwait City today is a very modern and developed city and slowly recovered from its bad conditions after the war with Iraq.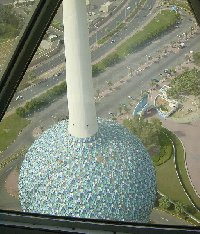 The domes of the Kuwait City
The city is well organized, clean and has a lot of great places to visit like the traditional souq markets but also the more commercial shopping malls.
The recently constructed esplanade makes the coastline of Kuwait City also a very attractive place to spend some time out of the city centre.
You won't spot a lot of people around the beaches though and you will be able to enjoy these endless stretches of golden sands flanked by green palm trees to the fullest!
The local markets on the other hand are very crowded and a day on the beach would be best enjoyed if combined with a visit to the souq of Kuwait City. This will be your opportunity to meet locals, interact with them and learn about their culture.