April 21st, 2010
The Solomon Islands are beautiful and a great destination for some first class scuba diving.
Located in Melanesia, north east of Vanuatu and east of Papua New Guinea, the archipelago of the Solomon Islands are next on the list and just a flight away from Port Villa, the capital of Vanuatu.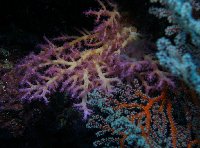 Scuba diving in the Solomon..
After our land diving adventure on Pentecost Island we were ready to explore new grounds and book our flight to Honiara, the capital of the Solomon Islands and situated on the main island of Guadalcanal.
Most tourists come here for the great reefs and Honiara is the perfect place to book all of your excursions as the tourist office of the Solomon Islands is located here.
At a short taxi ride from Honiara we made an appointment to go scuba diving the next day. Most divers come to the Solomon Islands to dive on WWII wrecks which today have turned into amazing reefs and a great place to spot marine life.
Our dives were amazing and we spotted pristine hard and soft coral and beautiful underwater species like the red anemone and clownfish, moray eel, lionfish, sea cucumber, sea star and numerous other creatures of the South Pacific.