April 23rd, 2010
The islands of St Pierre and Miquelon might be situated in the North Atlantic Ocean but they couldn't be more French and were colonized in the 16th century.
The two former islands of Miquelon and Langlade were connected by a naturally formed isthmus and together became the island of Grande Micquelon and Petite Micquelon. The island of Saint Pierre is divided from Miquelon by the North Atlantic Ocean.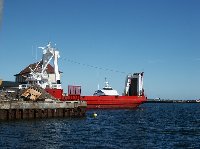 The harbor of Saint Pierre
The St Pierre and Miquelon Island are the only colonial remains from the French Colonialism in North America and you can taste the French culture everywhere on the island.
Most people on the islands speak French, have their own currency, the Euro, and live according French traditions and beliefs. The smaller island of St Pierre is more populated and also more touristic. The city of Saint-Pierre is very characteristic with all the colourfull houses and it's home to the islands international airport.