May 7th, 2012
If you want a true outdoor experience just outside the city of San Francisco you must try a wine tasting at one of the famous California vineyards such as the Robert Mondavi Vineyard.
Our visit to the Robert Mondavi Vineyard was such a great time and we got to see some of the incredibile nature that surrounds San Francisco.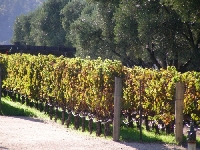 Vacation in San Francisco
The vineyard is located in Oakville in Napa County north of the San Francisco Bay area so not too far away to explore on a day trip out of the city. The wines are amazing and we had an amazing day learning about food and wine combinations and even some great wine recipes to put in use!
There are more vineyards in Napa County and there is not one that I could describe as being the best or the worst, I think it's an overall fun and interesting experience for when you're staying in San Francisco for at least a few days.