November 1st, 2013
This review was written by my husband, Richard.
I had occasion to visit my hometown for a 20th year anniversary. My accommodations at the Motel 6 on Lomaland couldn't have been more perfect for this was not a large an crowded property and while offering close proximity to I-10, it still had a pleasant seclusion. From my arrival to departure, the staff was exceptionally courteous and genuine which would help put anyone at ease.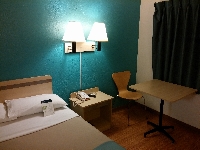 Travel Guide El Paso
My accommodations were on the east side of the building. The property was tidy and the interior was top-notch and comforting, especially after two flights to El Paso.
Everything was very neat and clean.
During my lodging, the staff was very accommodating in receiving a few UPS packages on my behalf, even placing courtesy calls to my wife out of state to alert me of the deliveries. Top notch.
I couldn't have been happier with my stay at this Motel 6. I loved the experience, it was truly pleasant and complication free. Such a great location for anyone seeking ease-of-access to the east side or east-central parts of town. The property manager, Alex, I will always remember fondly and hope to see again on the next trip out. I definitely recommend this location to anyone with east/central El Paso needs. Please see the pictures I personally took, to share with you.