May 7th, 2012
A tram ride or cable car ride is the way to get around hilly San Francisco and it turns out to be the perfect way to do some sightseeing as you can get some amazing views of the bay and Alcatraz Island.
Cable car tickets can be purchased from the conductor as you board or at turnarounds.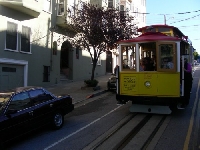 Travel Guide San Francisco
We bought three day tickets for 20$ which was really convenient because we could hop on and off whenever we didn't feel like walking. One of the places we visited was the Fisherman's Wharf (the line ended near the wharf) and from there it was an easy walk to for example Chinatown.