April 26th, 2010
Together with a friend of mine I went on a four day trip to Greenland. From Iceland we arrived in the Sermersooq municipality after taking an international flight to Kulusuk, the only international airport on the Eastern Coast.
Kulusuk is a small town in the Ammassalik district with a number of inhabitants just over 300 and a great place to experience the real Arctic Wonderland. The best way to explore the beautiful landscape and scenery of Eastern Greenland is by helicopter so after a day of relax in our hotel we booked a helicopter ride together with some other people.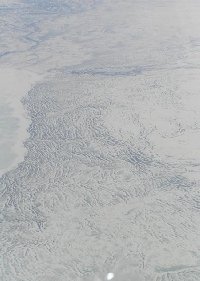 View from the plane,..
The next day a big red helicopter was expecting us at the Kulusuk Airport ready to take us on a fascinating flight along some of Greenland's most beautiful regions. I knew the ride was going to be amazing but once we got up in the air, the panorama's were simply breathtaking! The highlight of the ride definitely was the group of polar bears we spotted. I still can't believe how lucky we were to witness these three bears sharing a fresh meal just below us, an unforgettable experience!
It was amazing to see these giant ice shelves beneath us and eventhough the helicopter ride lastest just a few minutes to us it seemed like we were up there a lifetime. The floating ice shelves derive from the North Pole and especially when temperatures rise chances are higher to see these amazing changes in the arctic landscape.
From Kulusuk we travelled to Tasiilaq, the main village in the Ammassalik district and like Kulusuk situated in a magic wonderland. A short ferry ride from Kulusuk will bring a visitor to Tasiilaq and make sure to keep your eyes on the water during the ride because we even spotted a whale not too far from the boat!
Especially in wintertime Tasiilaq village is gorgeous with all its colourful houses covered in snow. The village is pretty isolated and inhabitants depend on basic supplies brought to Tasiilaq by boat in the months of July and October. Prices can rice a lot compared to the capital Nuuk on the Western Coast of Greenland and a can of beer will set you big at least 5 euro's. Nightlife isn't exciting but we managed to spend two hilarious nights in the local disco pub chatting up with all the locals who all seem very curious and welcoming.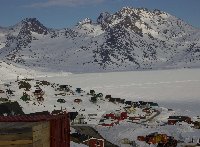 Landscape in the Ammassalik..
The kids play soccer on the streets untill it gets dark and the bar shuts it's doors early in the morning. Besides the boat ride we also experienced a real husky sled ride which was phenomenal and something I would recommend to anybody. These animals are simply gorgeous and completed our Arctic experience!