July 15th, 2010
Petra is one of the most important cities of Jordan and a major drawcard for tourists visiting the country. On our holiday to Jordan last last November me, my wife, and two kids went to visit the ruins of Petra.
We wanted to do a tour to the famous Great Temple of Petra, also known as the Petra monastery or Petra treasury, and came accross a horse riding tour we fell in love with straightaway.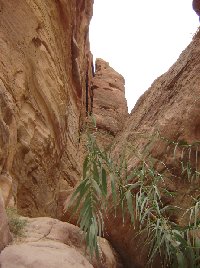 Travel Guide Petra
The horse ride was so enchanting it's hard to describe it by words.
The scenery of this city carved out of the red rocks is so mystic and crossing red valleys and passing through huge cracks in between immense rocks we all felt so tiny and had such a respect for this place, it just felt so sacred and special.
The route up to the Great Temple of Petra, Treasury or Al Khazneh consisted in a very narrow passage, known as Siq, and guided us along the huge red rocks of the Jordanian valley.
As soon as we had arrived at the end of the Siq everybody stopped talking and stared at the peekhole where we could see the first traces of the gorgeous Al Khazneh, carved entirely out of this amazing sandstone cliff. Definitely the highlight of our stay in Petra.