September 6th, 2010
From Amman our tour bus drove us to Petra, probably Jordan most popular touristic drawcard as most visitoris come here for the red desert tours to Wadi Rum and
Wadi Rum is also known as the Valley of the Moon and as soon as you start to enter it's territory you'll understand why as it really has something magical about it and you keep wandering how this valley was created and cut out of enormous granite rocks.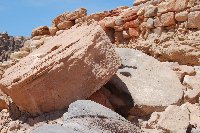 Trip to Petra
Besides climbers and people who come here for the good trekking there are also a lot of tourists that want to experience the popular camel ride tours and horse safaris through Wadi Rum.
We did an overnight Wadi Rum tour from Petra and stayed at the Al Zawaideh Desert Camp which was the best and I couldn't think of the comforts it offered in the middle of this desert!
Of course I have to say something about Petra aswell as it was such an amazing travel experience. I simply can't describe the feeling you get when you see the ancient building of the Al Khazneh Treasury at the end of this narrow track in between to large rocks.
We also visited the Ad Deir Monastery which was just as breath taking and the contrast between the desert sands and the amazing decorative architecture of these buildings is almost surreal. I would definitely recommend both trips to any traveller coming to Jordan.