February 14th, 2010
I practically travelled all the angles of Jordan and saw a lot of beautiful places. Before heading to Jordan my intentions were to travel to Iraq but unfortunately the embassy couldn't grant me the necessary documents so it was over to plan B and a flight to Amman, the capital of Jordan!
Besides the capital of Amman I visited Mount Nebo, the place where Moses witnessed the Promised Land and died, Petra, the caravan city filled with excavated wonders and the endless desert sands of Wadi Ramm. Other interested places include the Dead Sea where you can enjoy the natural wonders of the surrounding landscape floating on your back side and of course the magical city of Aqaba.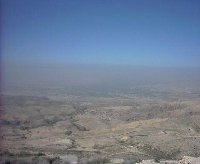 Promised Land at Mount Nebo
Jordan is a great travel destination especially if you're a bit of an adventurous traveller who likes to explore places a little bit out of the ordinary. The people are fantastic and very kind.
You really shouldn't miss a visit to the beautiful city of Petra with its amazing excavated wonders like the ancient building of Al Khazneh also called The Treasury. Besides Petra a bath in the Dead Sea is great fun and a unique experience.