July 19th, 2010
After a trip through the USA and a very exciting roadtrip along some of America's most beautiful cities we were ready to spend our final three weeks on Hawaii.
We had an amazing holiday package at the Waikiki Beach Marriot Resort, right on the beach!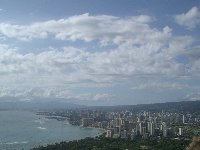 Tourism Hawaii
Besides the beach where we had some challenging surfing lessons and a very relaxing stay we went to see the Pearl Harbor Memorial, Hanaumay Bay, The Hawaii Warriors Stadium and had some amazing panoramic views of Honolulu Island from the Aloha Tower.
Another great lookout point to see Hawaii is the Diamond Head viewpoint, a volcanic cone on the island from where you'll be able to look out over the entire island.
We also went to the Sea Life Park where me and my wife and I went swimming with the dolphins. I was our first time and it was really nice, a bit like surfing but then even better.
Our vacation in Hawaii was fantastic and very relaxing, the perfect way to end our Grand USA adventure and I would recommend Honolulu to anyone looking for a nice beach vacation.