July 24th, 2011
My honemoon trip to Hawaii was a dream come true and after planning our wedding for over a year plus the stress of the entire event, don't get me wrong getting married is great, we truly deserved this peace of paradise to ourselves!
The honeymoon was spent on the islands of Honolulu and Waikiki and we stayed in amazing hotels like the Hilton Hawaiian Village Hotel where the staff received us with fresh flowers and non alcoholic cocktails to celebrate the beginning of a dream honeymoon on this beautiful island.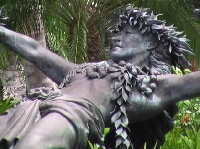 Travel Experience Hawaii
Hawaii was amazing and we did so many great things like renting a car and driving around the islands, but we also went on several boat rides and even a helicopter flight to get an even better view of this incredible island group. The food was great everywhere ( seafood, fruits and vegetables like I had never tasted before) and the people were just really friendly and welcoming. We loved Hawaii and will definately visit again.