July 20th, 2010
Astana is the capital of Kazakstan with a very modern and developed business district.
After our Gobi Desert adventure in Mongolia we decided to cross the border with Kazakhstan and extend our road trip in direction of Astana.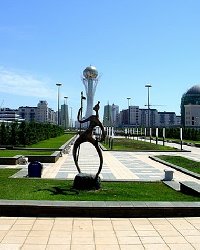 Travel Astana
One of the most famous constructions in Astana would be the Bayterek Monument which looks like the World Cup Soccer trophy but than in a large enormous version of it.
In real life the Bayterek Monument has a much better meaning to it and hides a beautiful tale about a magic bird who nestled her egg in the middle of two large branches which were part of the Tree of Life giving birth to hope and happiness for Kazakhstan.
This special Bayterek Monument functions like an observation tower for the city and a touristic viewpoint at the same time. In time it also has become a modern landmark for Astana and the symbol of a new Kazakhstan.
Especially at night the Bayterek Monument is a real eyecather as different light shows make it change colour and lite up the center of Astana. Looking at it with in the back of your mind this beautiful tale it makes you remember the magic bird and feel an instant feeling of happiness.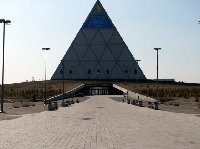 Travel Astana
But this new feel to Astana can be found all over the city as new monuments and constructions like the new Parliament Buildings, Kazakhstan Central Concert Hall and the Opera House inside the Palace of Peace and Reconciliation rise. I really loved our stay in Kazakhstan, and especially Astana made a really positive impression on me, a place I would love to return to.