August 1st, 2010
This February I went to visit my friend in Toronto, Canada. I had never been to Canada before so I was quite excited about my trip. Besides the fact that it was great to see my friend again I really liked my stay in Toronto eventhough it was really cold.
Luckily she told me winter time in Canada can be quite extreme so I had packed my entire winter wardrobe and I was happy I did!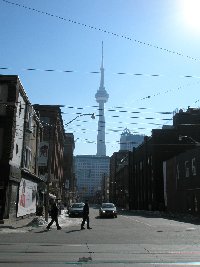 Trip to Toronto
I guess the temperature was about minus 18 when I arrived! There was snow everywhere which was really pretty and after I had got over my mini jet lag we were ready to explore Toronto.
At night I remember we went dancing at a club called Circa which was really cool and the people so friendly. Everybody kept asking where I was from and they wanted to take pictures together which was a lot of fun.
Together with my friend we went sightseeing the next day. Even in wintertime there are a lot of things to do in Toronto and we went up the Toronto Tower for a panoramic view of the city which was awesome. We also went to the Princess of Wales Theatre and we did some serious shopping on Bloor Street where there are lots of nice boutiques, eateries and a cinema.