February 21st, 2010
I would describe Toronto in Canada lik New York City with no flaws. From a cultural point of view this dynamic Canadian metropolis really has a lot to offer tourists.
There is a great cosmopolitan air to Toronto with its numerous local festivities, rich international cuisine and wide range of musical and theatrical entertainment.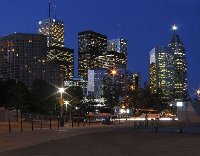 Panoramic pictures of..
Toronto is a very beautiful city but also a goof travel destination with plenty of attractions which are well connected and easy to reach. Being the cultural and commercial centre of Canada, Toronto is definitely worth a visit and especially the area around Ontario Lake is breath taking.
A major draw card of the city would be the CN Tower, one of the most impressive structures in the city.