May 27th, 2011
Last Easter me and my friends went on a weekend trip to Toronto in Canada and drove there from Buffalo New York which took us little less than two hours.
It was my first time in Canada but some of my friends had been in Toronto before so we had some information on where to go. After our 100 mile road race we arrived in Toronto and hungry as we were had some decent burgers at the Hard Rock Cafe, always good food.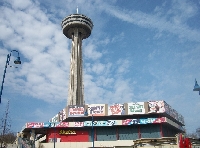 Trip to Toronto
Toronto was pretty cool and we had a great three days there. We also visited the Niagara Falls which was awesome because they actually cross the border between the state of New York and the Canadian province of Ontario given both a city by the name of Niagara Falls.
The view from the nearby Skylom Tower will give you both the city of Toronto on one hand and the highest overhead view of the falls in opposite direction.
Back in Toronto we explored the financial district, Chinatown and Little Italy where we had a good bowl of pasta. The architecture in Toronto is really nice and I loved the combination of modern buildings like the CN Tower and constructions dating back to the 19th century like the University of Toronto, both are a charm to this incredible city.