August 3rd, 2010
From Chivay we made a more thorough Colca Canyon trek to explore this beautiful mountain pass north of Arequipa. The Colca Canyon is the most famous canyon of South Peru and attracts a lot of hikers and tourists wanting to do a trekking.
From Chivay which is located on the upper Colca River the itinerary isn't that steep as this is the part where the canyon isn't that deep and terraces will facilitate the trek.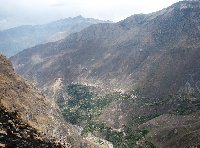 Travel Blog Colca Canyon
More down the river you will also encounter most of the mountain villages as most people living in the Colca Canyon have their home in between Chivay and the village of Cabanaconde.
Looking down inside the canyon you could see the terraces in the hills which was a beautiful sight. Especially at sunrise the panoramic views of the Colca Canyon are spectacular with the calm river running through the hills.
On the Colca Canyon trek you will also meet some local craftsmen and women selling their souvenirs from blankets to clothes and bag, all pure wool. It was nice to chat with the people and see how they live in this part of Peru.
The Colca Canyon is also the home of the Andean condor and we were lucky enough to get a few on camera as they flew over through the canyon walls.