July 19th, 2011
Here are some pictures of my ultimate travel experience in Peru where I travelled for several weeks and spend an amazing time by myself. The Colca Canyon Trekking was a three Days and two Nights Tour with great accomodation and very professional guides.
We camped at the Oasis Lodge which was this beautiful charming lodge with its own horses and donkeys. The owners have really done an amazing job on this lodge and as we descended the canyon we could just see the blue water of the pool glinstering in the sun and before newing the name of the lodge I knew that either I had arrived in paradis or it was an oasis:)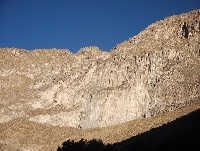 Tours Colca Canyon
The trekking I went on, the Colca Canyon Classic Tour And Trekking Into The Canyon, was organized by Pery Adventure Tours and started in Arequipa and from where we started driving in the direction of the second deepest canyon in the world!
On our first day we visited the Natural Reserve of Salinas and and Aguada Blanca where we spotted a group of llamas and some other Peruvian wildlife. First night´s stay at Casa Andina Hotel in Chivay where we visited the Planetarium and learned more about the Colca Canyon sky and other Andean traditions.
Day 2 led us from Tapay viewpoint into the canyon untill reaching Colca River after 4 hours of descending. We crossed the valley to start our ascend on the other side of the canyon. In the afternoon we had a lovely lunch and after a second trekking we arrived at our Oasis bamboo bungalows. Dinner at a campfire was unforgettable and delicious!
The third day we had breakfast at the Oasis and started the ascent of three hours at the left rim of Colca Canyon. To complete this unforgettable tour we travelled by bus to the Condor's Cross lookout before heading back to Arequipa.