August 9th, 2010
The Dead Horse Point State Park is located at about 4 hours south of Salk Lake City near the city of Moab, famous for other national parks like the Arches National Park and the Canyonlands National Park.
The Dead Horse Point State Park is next to the Canyonlands National Park so we decided to visit both these two parks in the same day.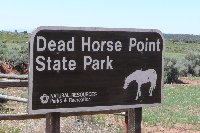 Travel Guide Moab
One of the best lookout points in the park is Dead Horse Point from where you can watch down and see the Colorado River running through the canyon.
From this plateau you'll be able to make some spectacular pictures of the Dead Horse Point State Park surrounded by a range of sheer cliffs. The legend tells that a group of wild horses died of thirst after being trapped in the canyon by some rangers helping this beautiful park finding its tragic name.