June 21st, 2011
Me and my hubby went on a roadtrip from Moab in eastern Utah and visited the gorgeous Arches and Canyonlands nearby. Monument Valley, The Arches National Park, the area around the canyon walls and many more beautiful places to visit.
We hiked through the Morning Glory Natural Bridge located in Negro Bill Canyon near Moab and I just remembered looking around me and feeling so small. I was a beautiful day and the colours of the sandstone gorge walls changed from dark red to bright orange, beautiful!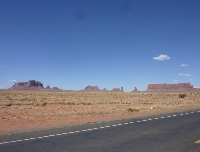 Where to go in Moab
Then, the priceless view of Monument Valley from the U.S. Route 163 just a few miles north of the Arizona/Utah State line showing off an incredible panorama displaying the Mittens and the Totem Pole.
We crossed borders and entered the state of Arizona where we had an amazing helicopter flight over the Grand Canyon with Papillon Grand Canyon Helicopters.
The view was amazing and of course hiking through parts of the Grand Canyon will give you a great satisfaction but flying over the entire national park will really give you an idea of how big and impressive the canyon is.