August 9th, 2010
Another great place to visit from Moab is the Canyonlands National Park which offers some beautiful panoramic views of the Green River which crawls through the canyons ot this national park.
If you're travelling with a camper van like we did make sure to take your time as the road up to the Canyonlands National Park can be steep and very curvy.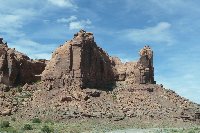 Vacation in Moab
A special viewpoint is the Island in the Sky, a platform in the north of the park which offors some amazing panorama's especially at sunrise so if you can, come early!