August 30th, 2010
As a family we had booked a 13-days Adventure de Luxe Tour with Matoke Tours and were picked up from the Entebbe Airport in Kampala as soon as we landed in Uganda.
When we were little me and my brothers had lived in Uganda for two years because our parents had emigrated there for work.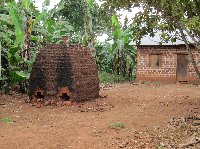 Holiday in Kampala
Growing up we always had some distant memories of this childhood in Africa that for our parents 40th anniversary we surprised them with this family holiday to Uganda.
Matoke Tours was a real help and their 13 days itinerary was perfect for us because we had arranged for a two weeks holiday and wanted to see as much of Uganda as possible.
In Kampala we stayed at the Lagoon Resort which was very nice. After our airport pick up we took a ferry boat from the Lagoon Resort to get to the accomdation where we were welcomed with a cool drink.
The rooms were nice and clean,all meals included and there were enough guided acitivities around the Lagoon Resort to sign up for during our stay in Kampala.
For example, we went for a walk to the nearest village to learn more about the rural area around Kampala and spot some of the curious trees and animal species. We also visited a local school which was really nice as the children were so lovely and enthusiastic.