September 8th, 2010
From Hoima we followed our travel schedule to the Kibale Forest with a stop in Fort Portal where we had lunch. After a 7 hour drive we had arrived.
The drive along the Kasese Road of southwest Uganda was incredibly scenic and we made a lot of pictures as we passed tea plantations and cottages in the middle of a lush green countryside which is so characteristic for Uganda.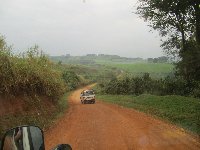 Trip to Fort Portal
The Kibale Forest was a completely different world and our main reason to come here was to track chimps as the forest is home to over 10 primate species.
Monkeys that can be spotted on the Chimps Track include the Red Tailed Monkey, Olive Baboon, Black and White Colobus Monkey and the Blue Monkey.
Besides the chimps, of which today there are less than 5000 left in the wild in Uganda, you'll also encounter some enchanting birdlife and with a bit of luck come face to face with the beautiful Great Blue Turaco.
During the trekking our ranger pointed out all kinds of interesting species of flora and fauna which made it a great jungle experience for us. The guided walk lasted for about 2, 5 hours and took us to some beautiful green landscapes and even some small communities.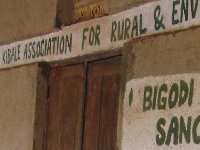 Trip to Fort Portal
After our Kibale Forest trekking adventure we returned to our cottafe where we enjoyed a meal as we listned to the sounds of the forest. From Fort Portal and Kibale we got back on the Kasese Road to head more south to visit another tourist attraction in Uganda, the Queen Elizabeth National Park.