January 26th, 2011
In August I took my wife and kids to Uganda for what was going to be the holiday and travel experience of a lifetime! I could have never imagined how impressive the beauty of Uganda was and we were welcomed us such a friendly manner, everywhere.
We had booked a pre-organized family holiday of two weeks with the Matoke Tours operator and I mus say everything was well arranged and we had very nice accomodation on our trip.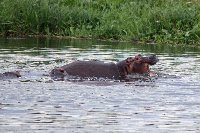 Travel Guide Lolim
Also the safari trips we made were so amazing and I wouldn't know where to start..
Well you sure can't miss the Murchison Falls National Park because if you're coming to Uganda for a wildlife experience this is the perfect place to spot all kinds of wildlife. Plus it is the largest national park in Uganda.
We did several jeep safaris both at night as in the morning plus boat trip safari to reach the famous Murchison Falls. The view from the highest point of the falls is absolutely breathtaking but we had our eyes and hands full througout the entire boat trip spotting crocodiles, hippo's and the most colourful and unique birdlife I have ever seen!
I will try to write different blogs for the different sections of our two week family holiday in Uganda.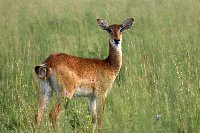 Travel Guide Lolim
Our experience in the Muchison Falls National Park was unique and priceless and we saw so many beautiful animals like the elephants and giraffes that grazed in front of our jeep but also a lot of antilope, whartogs, birds, hippo's and of course, a personal highlight, the rhino.
To spot the rhino, both white as black, we went on a walking safari with a ranger of the Ziwa Rhino Sanctuary to track the rhino's in this particular area. The best thing about the walking safari is the opportunity to view them in a very close range and be able to really observe them.