September 20th, 2010
During my stay in Santa Monica I stayed at the HI Los Angeles Hostel which is part of the Hostels International chain. To stay here was a great decision as the hostel is really clean, modern and with a great location.
I also liked that the hostel had a garden and that the public spaces like the laundry room and the kitchen were tidy and well looked after.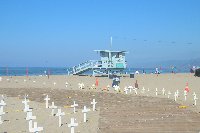 Travel Blog Santa Monica
At night the HI is comfortable because of its proximity to cafes, restaurants and movie theatres while during the day it only took me a short walk to get to the beach.
When I was at the beach I also visited the Arlington West memorial which is dedicated to all the fallen US soldiers in Iraq and where there has been placed white crosses for every victim.
The memorial is located north of Santa Monica Pier and can be visited on Sundays.