October 4th, 2010
This Summer my girlfriend and I went on a trip to Jordan, in the Middle East. We headed to Amman, the capital city of Jordan and from there we went on several day trips and tours.
One of the day trips that I liked was the one to Jerash, the ancient Roman city which forms one of the most popular tourist attractions in Jordan.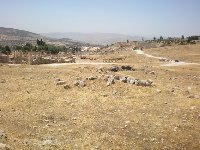 Vacation in Jerash
You can either choose to hop on a bus tour from Amman and Jerash but we a couple we met during our travels had done a private tour to Jerash and recommended us to do so too.
We had an English speaking guide which was great because we really wanted to know more about the history of Jordan and Jerash in particular. Unfortunately the trips to the Roman site have become a bit to tacky, not the guided walk around the arena and the temples but the theatrical Roman gladiator races, not really our thing.
We were happy to have chosen the private day tour as our guide gave us the opportunity to extend our walking tour instead of attending the show.
The weather was great and we had a clear blue sky all day long. As for the remains, our guide explained us everything there is to known about the Greco-Roman city of Gerasa which played an important role in connecting all the settlements within the Roman province of Arabia. We also visited the temples of Zeus and Artemis but the Roman theatre was my favourite part, what a beautiful place!