April 6th, 2011
With our visit to Damascus the capital city of Syria we had reached the second part of our journey and it was time to open a next chapter and travel through to Jordan where we would continue exploring all the beauty that the Middle East had to offer us.
The first city we came across after crossing the border travelling south from Damascus into Jordan territory was Jerash where we were going to visit the Roman city of Gerasa.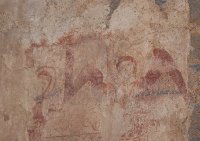 Holiday in Jerash
Jerash lies north of Amman the capital and both located in the northern tip of Jordan. The Greco-Roman ruins have become an important tourist drawcard for the region and I won't surprise anyone that we weren't the only visitors!
The Arch of Hadrian, the Forum and the Roman Theatre are some of the most impressive features of the ancient city but the thing that really made the trip worthwhile was the spectacular view we had on top of the ancient city of Modern Jerash which obviously formed a great contrast with the site behind us.