January 11th, 2010
Jerash is known for its amazing Roman amphitheatre and the remains of the old city of Gerasa. Standing on the hill of the site you can see how the old ancient city flows over in the modern settlement of Jerash which is a beautiful sight.
Walking around on the archeological site really makes you feel like you've arrived in the Roman era and its amazing who much the structures resemble the Roman buildings of the Fori Imperiali in Rome. It's hard to imagine how these people traveled for thousands of kilometers to build up a town like Gerasa far away from their own home.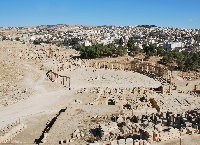 Pictures of the Roman..
The arches and Corinthian colums almost look like they have been send in from Rome. Attractions like The Arch of Hadrian build to honor the Roman Emperor Adriano for visiting the city of Jerash and The Temple of Artemis build to worship the city patron and Goddess Artemis keep the ancient stories of Jerash very alive.
The streets, arches, columns, amphitheatres and even the oval market square are very much still in tact compared to other archeological sites which makes it such a special place to visit.
It was strange to stand in this ancient world full of history and look out over the modern city of Jerash where life has developed so much. It's seems almost impossible that these two places belong to the same city.
To help your imagination a little bit Roman shows are held everyday and you can tell these actors have done their homework. They even looked the same like the ones standing in front of the Colosseum in Italy! Ok, the show was a bit tacky and reminded a bit of my high school performances but it was a good way to imagine how people 2000 years ago used to live in Jerash.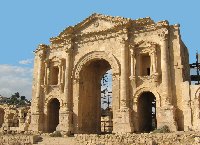 The ancient Arch of Hadrian..
On the way back to Jerash the driver asked us if we wanted to stop at this little falafel shop to have a bit which made our day even better. Usually this means the driver will get a commission for taking you to his friends overpriced falafel shop but not this time! We had some great falafel at Jordian