October 8th, 2010
During the three days we spent in Hobart our stay at Hotel Grand Chancellor Hobart was perfect. The hotel is located at the waterfront right in the heart of Hobart.
This means getting to the city center during the day, maybe to visit the Salamanca markets on Saturday morning or to grab something to eat at one of the waterfront restaurants becomes really easy.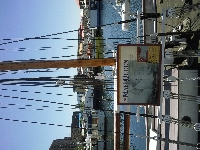 Vacation in Hobart
We did everything by foot and eventhough Hobart isn't that big it was quite comfortable to stay at the Grand Chancellor Hobart Hotel.
You can walk to the waterfront to try the real Tassie fish and chips which is known to be one of the best in Tasmania. Try Flippers on the waterfront and follow the group of hungry seagulls to the kitchen.
Nearby there are also some local tour operators where you can book cruises or bus tours around Hobart and the southern coast of Tasmania.
We had a rental car so we passed on that one but if you don't this hotel is great because you don't need one!