October 10th, 2010
Eventhough we had a rental car a great part of Hobart is easily explored by foot, especially around Salamanca Place and the Waterfront Area.
We followed the walking tour designed by Lonely Planet Australia which on a sunny day is a very nice itinerary to walk. There might not be a lot to see but if you like photographing the typical Tasmanian houses and taking a break at the local pastry shop then you'll enjoy your walking tour.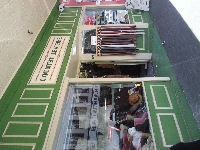 Tours Hobart
We made a stop at Jackman and McRoss, the local bakery and had some great chocolate muffins. Back at Salamanca Place down along Kellys Steps there are also a lot of nice bars and restaurants where you can sit down for a drink or a lunch meal.
If you're not feeling like dining out just order something to go, like the fish and chips at the waterfront and sit down on the grass of St. Davids Park in front of Hobart's Parliament House.
The Hobart shopping mall and the more comercial side of the town is reached by car and we went there to check out the shops and we also spent a night at Village Cinemas on Collins St.
Don't forget to pay a visit at the M&M Store across the street from the cinema as the owner is a mad M&M fan and was really friendly helping us picking our favourite candy.