October 7th, 2009
This morning we went skydiving with Skydive Broome, an operator I found through the internet. The ride up there was a trill on its own but once you're up there, 10.000 ft high, your mind just keeps wowing!
Our skydive instructor Ralph was great and explaned all the things we had to keep in mind, how to move and most of all to enjoy the dive!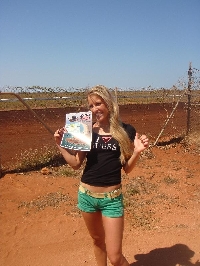 Skydive diploma!
We jumped above Ganthaume Point, 7k south of Broome with an amazing view over Cable Beach and the gorgeous coast line.
We decided to buy both the DVD as the photo's Ralph took during the flight and they were sooo cool. Unbelieveble how he got to film all that during our free fall!