December 27th, 2009
Gantheaume Point, 7 km from Broome's town centre, is one of the most beautiful places. Not only can you walk over these amazing red rocks which tumble in Broome's amazing turquoise waters but the place is also of great historic value.
Broome is the only place on earth where there's still vivid and clear evidence of the presence of dinosaursdating from the prehistorc era. On Gantheaume Point you will find three enormous footprints of a Tirosaurus Rex left in the red dust milions and milions of years ago. Not only can you get close to the footprints and take pictures but they are so well looked after and not damaged in any way.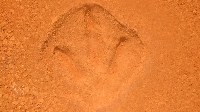 Dinosaur footprints at..
The dinosaur footprints at Gantheaume Point are still in tact and locals have great respect for this site. You will be able to stroll down this heritage walk guided by information panels. There is even a picnic area where you can cool off in the shades.