November 6th, 2010
Broome is an amazing town on the north coast of Western Australia and popular with both tourists as locals. Me and my husband live in New South Wales and are born and raised in the city of Sydney.
We love to travel to Broome at least once a year and enjoy the beauty of this part of Australia which is still so raw and authentic.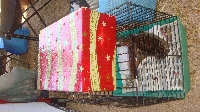 Vacation in Broome
From Sydney we fly Qantas as the flights are economic if booked in advance and we have never experienced any problems at all.
I added some pictures of the Courthouse Market which is a popular market in Broome where most tourists head to during their stay here.
While we were at the market there was a great stand where volunteers explained about Australian wildlife and the dangers they face everyday.
Especially, the little kangaroos that stay behind when their mothers are killed on the road. One of the volunteers showed us a one day old kangaroo which was so tiny that it had to be kept in a linnen bag to keep it warm and simulate his mothers pouch. She was rescued from her mother's pouch the night before when they got hit by a car and by accident were found by someone who called the organization's hot line.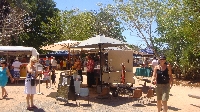 Vacation in Broome
It was a very touching moment and probably the closest I have ever been to Australian wildlife. From the heart of Broome the Courthouse Markets was the first place we went to after arriving but of course there are a lot of things to do so make sure you book that flight to Broome!
Just to name a few things you coul start of with exploring beautiful Cable Beach, even join a romantic camel ride or have your pick of outback tours like the ones that will take you into the Kimberley Region or to hunt after real crocodiles. Broome is really relaxing place but there's enough excitement as well and if you prefer to go your own way just rent a 4wd vehicle and explore the beautifulc coastline on your own!