October 12th, 2010
With a couple of friends my husband and I spent a perfect beach holiday in Curacao, one of the islands of the Netherlands Antilles.
We stayed in the capital city of Curacao, colourful Willemstad. Well, if you have ever been to Amsterdam you can see how this place was colonized by the Dutch as the houses have very similar shapes.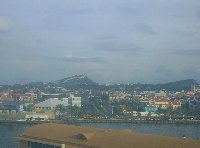 Travel Guide Willemstad
The only thing which makes Willemstad stand out is the bright colours of the buildings which add just a little bit of that caribbean flavour to it.
We had a great stay in Willemstad and found it to be a perfect base to explore other parts of Curacao. The harbor of Willemstad was one of my favourite areas of the city as it's a real eye catcher on the waterfront. Besides Amsterdam it also resembles a bit of Kopenhagen, but..back to Curacao!
We stayed at the Plaza Hotel Curacao which had a perfect location with a nice view of Willemstad Harbor, the Queen Emma Bridge and the city skyline. The room was nice and tidy. I also liked the outdoors pool and the friendly helping hand of the staff.
The hotel was just a two minute walk away from the bus stop and the bus will take you right up the strip where you can have dinner at night at a wide variety of restaurants.